IoT Kits© are easy to build and are a great introduction to the Internet of Things, sensors, and microcontrollers. They require an intermediate level of soldering skill, the ability to install software on a personal computer, basic text editing (cut & paste), and file manipulation (unzipping files, moving folders). All parts are supplied. You only need some basic tools, a Micro USB cable, and access to WiFi and the Internet.
Available IoT Kits:
Solar-powered, wireless weather station (single-board version)
The D1M-WX1 is a completely wireless, solar-powered weather station using your WiFi for connection to the Internet. It reports barometric pressure, temperature, humidity, and light intensity to ThingSpeak, a free Internet of Things service. Licensed radio amateurs can also post data to APRS-IS.
Solar-powered, wireless weather station (stacked version)
The D1S-WX1 has exactly the same features as the D1M-WX1 in a three-shield stacked version: LiPo cell charger, D1 Mini, and sensor board. The shields are compatible with the D1 Mini microcontroller.
D1S-WX1 Stacked Version
Remote display
The remote display is a companion kit for the solar-powered weather stations. Currently, it displays data from IoT Kits using the amateur radio APRS-IS network. Firmware is under development to allow the use of other weather sources so that non-radio operators can enjoy the same features. In addition to weather information, it displays accurate local and Universal Time obtained from a Net Time Protocol Server. It automatically adjusts for Daylight Saving time. The display is a full color, 1-inch (25 mm) square TFT device mounted on a D1 Mini-style shield. The IoT Kits firmware displays in five-second intervals,  an analog clock showing local time, a digital clock with local and UTC times, weather, and telemetry data from your D1M-WX1 kit. It will display an APRS message until acknowledged when the user presses a reset button.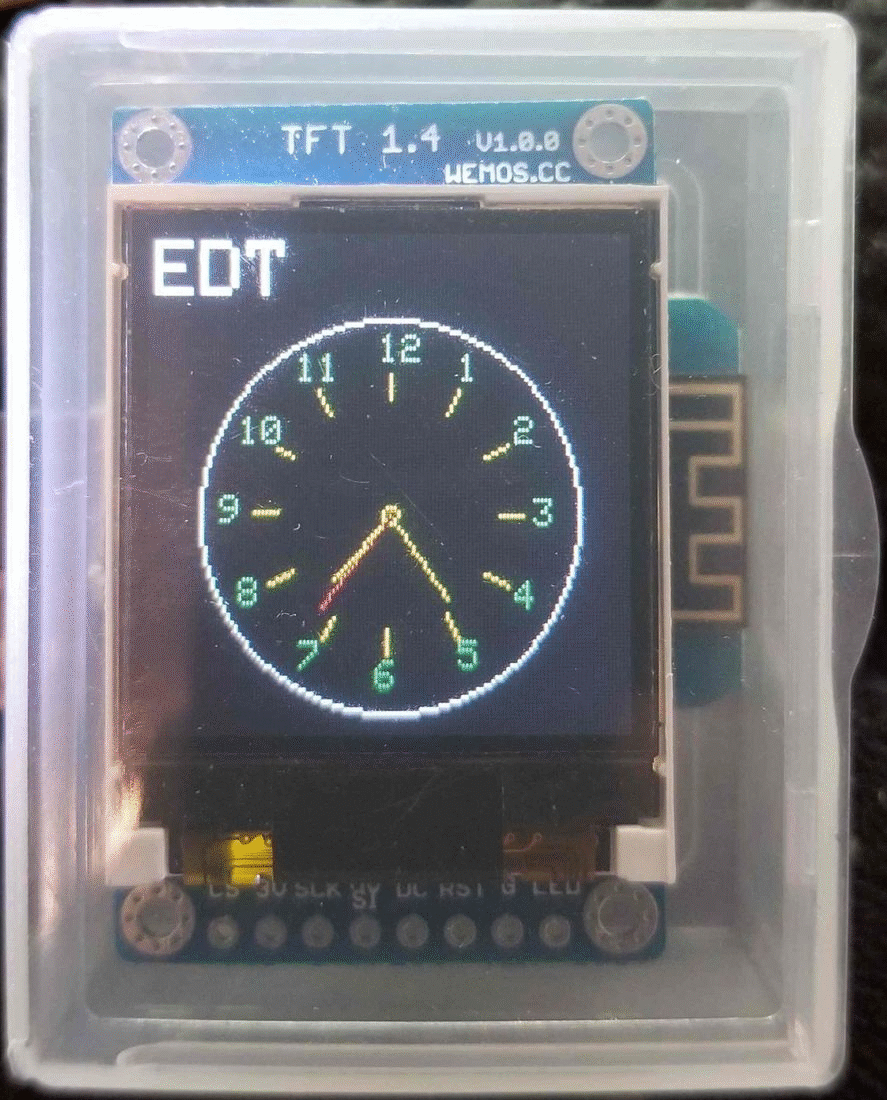 General Assembly Instructions
These assembly and programming instructions are for IoT Kits© purchased after May 2018. Legacy instructions are at http://w4krl.com/solar-powered-weather-station/
Follow the basic steps in this order:
Prepare the Arduino IDE software. This includes adding the ESP8266 core.
Download the IoT Kit© firmware for your kit and assemble the hardware:
Enjoy using your kit! Here are some MATLAB scripts to enhance your ThingSpeak channel.
Explore the Internet of Things and how the kits work in more detail.
Links for detailed assembly instructions: