IoT Kits© are easy to build and are a great introduction to the Internet of Things, sensors, and microcontrollers. All parts are supplied and all software is free.
To build a kit, you should have:
an intermediate level of soldering skill,
the ability to install software on a personal computer,
familiarity with basic text editing (cut & paste), and file manipulation (unzipping files, moving folders),
WiFi and access to the Internet,
some basic tools (wire cutters & screwdriver),
a Micro USB cable.
Available IoT Kits:
Solar-powered, wireless weather station (single-board version)
The D1M-WX1 is a completely wireless, solar-powered weather station using your WiFi for connection to the Internet. It reports barometric pressure, temperature, humidity, and light intensity to ThingSpeak, a free Internet of Things service. Licensed radio amateurs can also post data to APRS-IS.
Solar-powered, wireless weather station (stacked version)
The D1S-WX1 has exactly the same features as the D1M-WX1 in a three-shield stacked version: LiPo cell charger, D1 Mini, and sensor board. The shields are compatible with the D1 Mini microcontroller.
D1S-WX1 Stacked Version
Remote display
The remote display is a companion kit for the solar-powered weather stations. Currently, it displays data from IoT Kits using the amateur radio APRS-IS network. Firmware is under development to allow the use of other weather sources so that non-radio operators can enjoy the same features. In addition to weather information, it displays accurate local and Universal Time obtained from a Net Time Protocol Server. It automatically adjusts for Daylight Saving time. The display is a full color, 1-inch (25 mm) square TFT device mounted on a D1 Mini-style shield. The IoT Kits firmware displays in five-second intervals,  an analog clock showing local time, a digital clock with local and UTC times, weather, and telemetry data from your D1M-WX1 kit. It will display an APRS message until acknowledged when the user presses a reset button.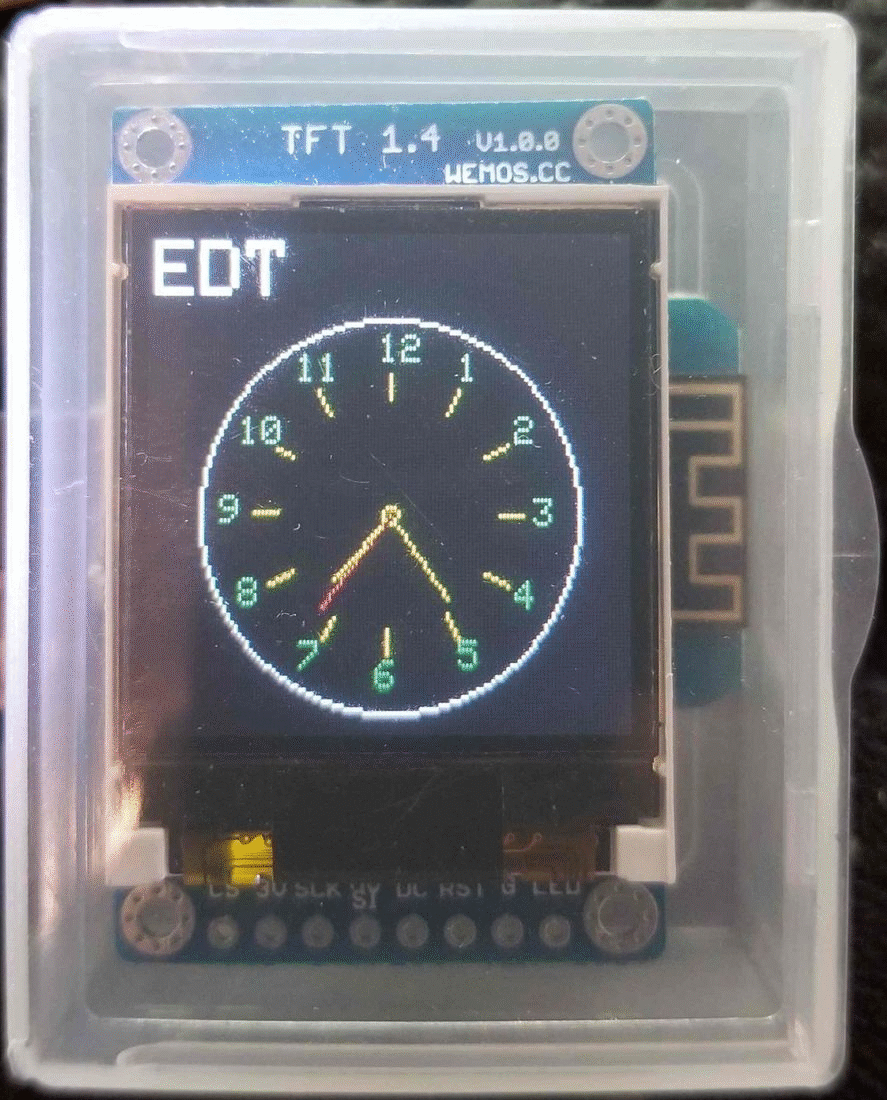 General Assembly Instructions
Follow these instructions step-by-step. Click on the section titles for the complete text.